Hope Vale Commissioners
The Commission recognises we are visitors to the country we travel across and work in and that many of our Local Commissioners are Traditional Owners and Elders of their communities. The Commission acknowledges and pays our respects to the Traditional Owners, Elders and Teachers of these lands; to those of the past whose unseen hands guide the actions and decisions of the Commissioners today; to those of the present working for their communities setting the example for the next generation and to those of the future, the Elders not yet born who will inherit the legacy of our efforts.
Commissioner Cheryl Florence Cannon
Commissioner Cheryl Florence CANNON is a strong, determined and motivated Indigenous woman from Hope Vale. Commissioner Cannon loves the precious time she spends with her family including 12 grandchildren and one great-grandchild and pottering around home tending to her garden. She has had a career in education across Cape York, teaching and in leadership roles within a number of schools. After a brief retirement, Hope Vale Commissioner Cannon's commitment to education had her employed as a Student Development Officer at the Hope Vale Campus of CYAAA. Her role involved engaging community people to be more active within the school community, in addition to providing support for school attendance and incorporating cultural aspects within the school. From 2021 to February 2023 Commissioner Cannon was the Education Coordinator of the CYAAA Hope Vale Playschool which is a learning environment for children aged 0 to 4 years. There learning is focused on literacy, language and maths, delivered in fun and enjoyable activities for children and their parents. In 2023 Commissioner Cannon commenced in a new role as Secretary of the Thurrpiil Community Justice Group. Commissioner Cannon enjoys being involved in community events that engage all age groups.
She joined the Commission as a Hope Vale Local Commissioner in August 2014, and thoroughly enjoys the experience. As a Commissioner for Hope Vale, Cheryl's vision and values run parallel to that of the wider community and she is eager to set in motion change for the positive future of Hope Vale.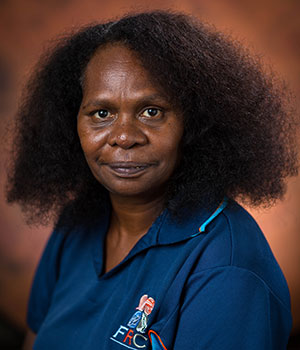 Commissioner Erica Deeral
Commissioner Erica DEERAL (Gamaay / Waymbuurr Clans) retired from her position of Administrative/Accounts Officer with the Hope Vale Campus of CYAAA in 2019. She enjoyed working at the school and seeing school attendance improve so that young children can obtain an education to better their futures. Prior to this Hope Vale Commissioner Deeral held administrative positions with the North Queensland Land Council and Cook Shire and Hope Vale Aboriginal Shire Councils. She also held a role in the live performance and re-enactment of the landing of Captain Cook and his interactions with the Guugu Yimithirr Bama at the Cooktown and Cape York Expo 2021.
She attended Hope Vale State School, Cairns West State School, Trinity Bay High School and the Cairns Business College. She is a traditional owner, a Director of the Hope Vale Congress Aboriginal Corporation, and a Director of her own Gamaay Warra family business. In January 2022 she was elected as Deputy Chair of Gungarde Community Centre Aboriginal Corporation before being appointed as Chairperson in August 2022. These positions reinforce her vision of providing a range of services and positive initiatives for Aboriginal and Torres Strait Islander people in Cooktown and surrounding areas.
Commissioner Deeral is a mother of two sons and grandmother of five granddaughters and one grandson. Commissioner Deeral became a Hope Vale Local Commissioner on 20 October 2011.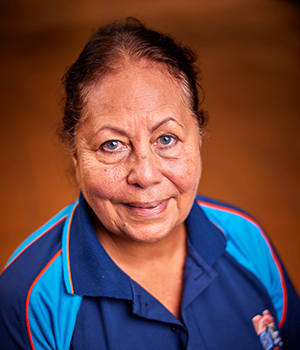 Commissioner Priscilla Gibson
Commissioner Priscilla GIBSON (nee BOWEN) a Guugu Yimithirr speaking woman has ancestral heritage to Daarrbra, Bagarrmugu, and Birra-gumba from her grandfather George Bowen (Emerson) who was removed from his homeland (Proserpine area) to Cape Bedford Mission after the closure of Mari Yamba Lutheran Mission.
She has skills and qualifications in early childhood education, having established a centre in her hometown of Hope Vale, later acquiring the 'George Bowen Memorial Kindergarten', and assisting it to achieve accreditation under the Childcare and Kindergarten Association. Commissioner Priscilla Gibson holds a Diploma in Nursing, Nutrition and Advanced Practice in Aboriginal Health, and a Graduate Diploma in Health Promotion, Counselling and Referral Skills. She has served on various boards as a Director, worked with the TAFE College in Cairns in the position of Program Manager for the Community Ranger Program, Local Coordinator for the FRC, Coordinator for the Well Being Centre and Senior Parenting Practitioner with Cape York Partnership. Commissioner Priscilla Gibson and her husband Victor Gibson perform strong community engagement roles by providing opportunities for social gatherings through concerts, Yarning Circles, contributing to the Young Leaders Program and opening their door as foster carers for the community.
Commissioner Priscilla Gibson states, "Culture and my family is important to me. It is the embodiment of my existence and that of my ancestors and descendants."
On 1 November 2019, the appointment of Priscilla Gibson took effect as a Hope Vale Local Commissioner.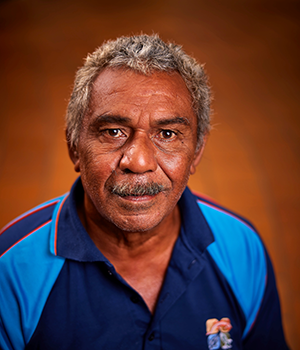 Commissioner Robert Gibson
Commissioner Robert GIBSON (Bulgun Warra / Aba Yeerrkoya Clans) was born and raised in Brisbane and is one of six children. His family, though originally from Hope Vale, moved to Brisbane to access medical treatment for his eldest brother. Commissioner Robert Gibson attended Zillmere North State School and in 1982 completed Year 12 at Aspley State High School. He continued his tertiary studies at TAFE prior to attaining a boilermaker apprenticeship at the Royal Corps of Australian Electrical and Mechanical Engineers Army Barracks.
In 1984 he was happy to return to his family's homeland of Hope Vale and secured employment as a Deckhand at Cape Flattery until 1991. Following his work at Cape Flattery Commissioner Robert Gibson gained employment with the Hope Vale Aboriginal Shire Council as a Debtor's Clerk/Administration Officer. In 1993 he was elected as Deputy Chairperson of the Hope Vale Aboriginal Shire Council. After completing a Certificate of Justice Studies, Community Policing at Innisfail's TAFE he was employed as a Police Liaison Officer in Mossman from 1996 to 1999, later transferring to Hope Vale.
Commissioner Robert Gibson has been Director and Deputy Chair for both Alka Bawar Aboriginal Corporation (Bathurst Heads) and Kalpowar Aboriginal Land Trust. These positions included the sourcing of funding and planning for on country development. On 1 November 2019 Robert Gibson was appointed as a Hope Vale Local Commissioner.
Commissioner Robert Gibson has been blessed with two daughters and one grandson who live in the Cooktown and Hope Vale area. Fishing and camping have been a big part of his life and he has a new-found hobby of carpentry in constructing planter boxes.
Commissioner Doreen Hart
Commissioner Doreen HART OAM (Binhthi / Bulcan Clans) was selected as a Cape York representative for the 2015 Emerging Leaders Program hosted by Jawun. In 2021 Commissioner Hart, with the support of her workplace, completed her Certificate III in Aboriginal and/or Torres Strait Islander Primary Health Care and will soon enrol for her Diploma in Mental Health. Her former roles include Engagement Officer for Cape York Empowered Communities Backbone Organisation, Community Development Officer with Living Change at the Wunan Foundation, Chief Executive Officer for the Apunipima Cape York Health Council and Housing Officer for the Hope Vale Aboriginal Shire Council. In December 2021 Commissioner Doreen Hart retired from her position as Team Leader/Service Provider with Apunipima Cape York Health Council. Local Commissioner Hart is a Justice of the Peace (Qualified) and a member of the Thurrpiil Community Justice Group.
On 26 January 2015 Hope Vale Commissioner Hart was awarded a Medal of the Order of Australia (OAM) in recognition of her services to the community.
Commissioner Selina Kerr-Bowen
Commissioner Selina KERR-BOWEN is married to Ronald Bowen from the Thuupi / Dharrba Warra Clans of Hope Vale. Commissioner Kerr-Bowen has two children and one adopted son from the many children that she and her husband cared for over the years while being kinship carers. Both of her sons graduated from Peace Lutheran College in 2013. Her daughter Nancee-Rae is currently schooling at St Patrick's College in Townsville. She is striving to also graduate secondary school, like her older brothers, Warwick and Coleridge. Commissioner Kerr-Bowen has lived in Hope Vale for most of her life, only leaving to complete her secondary schooling in Brisbane where she graduated from Hendra High in Nundah. After leaving school her former jobs have included being an Assistant Manager for the local food store, an agent for the Commonwealth Bank in Hope Vale, a Parenting Consultant where she delivered the Triple P program for Cape York Partnership, and a Councillor from 2016 to 2020 with the Hope Vale Aboriginal Shire Council.
Hope Vale Commissioner Kerr-Bowen commenced with the Commission on 14 May 2015 and feels good parenting is vitally important. She would like other parents to also enjoy the close relationship and respect from their teenagers that she enjoys with her children. Today Commissioner Kerr-Bowen and her husband commit their time as General Carers, raising children placed into Child Safety. Commissioner Kerr-Bowen has recently undertaken, and greatly enjoys, organising functions for women in the community for Mother's Day and International Women's Day.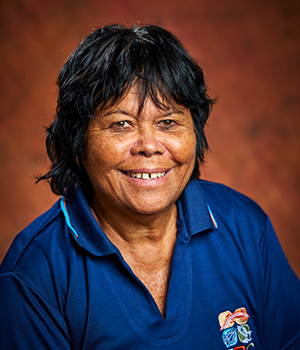 Commissioner Kathryn Dora Gibson
Commissioner Kathryn Dora GIBSON (Thuubi/Dhaarrba/Biri Gaba Clans), or Dora as she prefers to be called, is currently employed by My Pathway as an Activity Supervisor and works at the newly established Hope Vale Community Activity Hub.
She is married to Trevor Gibson from the Bulgun/Binthi clans, and has four children, ten grandchildren and seven great-grandchildren of whom she is very proud.
She has had a career in education which spanned almost 40 years, initially in administration at the Hope Vale State School and then as a teacher-aide. After years as a teacher-aide, she was encouraged to study for her teaching diploma. She graduated with a bachelor degree, which was special as she graduated together with her daughter Tamara. Within her teaching role, she was seconded as a multi-lit teacher for two years, also holding down many acting-principal positions, the last being at Coen State School. She retired from teaching in 2012.
In 2013 Commissioner Dora Gibson applied for and was successful in acquiring a role as the Education & Youth Support Officer for the Hope Vale Aboriginal Shire Council, a position she held for four years. In 2018 she was offered a position with My Pathway at the Youth Hub. This role focused on after-school and holiday activities at the hub for school children. Within this role she worked closely with the school, supporting them with incentives, and used the Hub to manage behaviour and improve attendance.
Commissioner Dora Gibson is passionate about keeping her language and culture alive and works tirelessly with her husband to run cultural programs in the community. Commissioner Dora Gibson became a Hope Vale Local Commissioner on 5 May 2022.