Mossman Gorge Commissioners
The Commission recognises we are visitors to the country we travel across and work in and that many of our Local Commissioners are Traditional Owners and Elders of their communities. The Commission acknowledges and pays our respects to the Traditional Owners, Elders and Teachers of these lands; to those of the past whose unseen hands guide the actions and decisions of the Commissioners today; to those of the present working for their communities setting the example for the next generation and to those of the future, the Elders not yet born who will inherit the legacy of our efforts.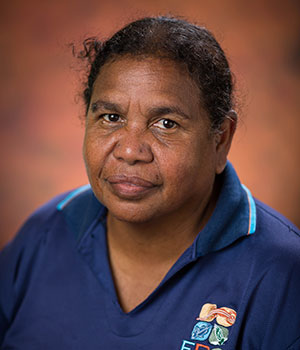 Commissioner Loretta Spratt
Commissioner Loretta SPRATT OAM (Olkola / Lama Lama Clans) was born on Thursday Island but spent her infant years in Coen and Hope Vale. She remained in Hope Vale throughout her childhood until her late teens when she met Nathan McLean, a young man visiting from Mossman Gorge. Commissioner Spratt later moved to the Gorge where she resided for many years with Nathan before buying a house and moving to Mossman in February 2018. Mossman Gorge Commissioner Spratt has previously worked in the areas of sport and recreation. She has completed a Certificate III in Horticulture, discovering her true passion in life, and is currently employed by Bamanga Bubu Ngadimunku Aboriginal Corporation (BBNAC) propagating and using native plants and trees in landscaping.
On 26 January 2015 Mossman Gorge Commissioner Spratt was awarded a Medal of the Order of Australia (OAM) in recognition of her services to the community. She has a keen interest in art and a love of reading, and continues to learn new skills to complement her Local Commissioner role in the community. Mossman Gorge Commissioner Spratt continues to work closely with young people and the women of her community to promote strong, healthy and supportive families. On weekends she likes to spend time with her nieces and nephews fishing, enjoying the natural beauty of the Daintree area, reading and particularly gardening at home.
Commissioner Karen Gibson
Commissioner Karen GIBSON OAM (Kuku Nyungul / Kuku Yalanji Clans) was born and raised in the Mossman area. She is an artist whose work has gained increasing recognition and exposure. As an artist Commissioner Karen Gibson also enjoys inspiring other artists to follow their dreams. Mossman Gorge Commissioner Karen Gibson previously held positions at Cape York Partnership Empowered Communities as a Community Engagement Officer and Regional Coordinator, where she was the Empowered Community Champion for the Mossman Gorge community. Mossman Gorge Commissioner Karen Gibson is on the Board of Directors for the Cape York Girl Academy and previously held the positions of Chairperson and Vice Chairperson of BBNAC. Other positions held include Board Member for the Cape York Land Council, Director of Kuku Yalanji Dreamtime Tours, Attendance Case Manager with Cape York Partnerships and Local Coordinator for the Family Responsibilities Commission, Mossman Gorge.
On 26 January 2015 Mossman Gorge Commissioner Karen Gibson was awarded a Medal of the Order of Australia (OAM) in recognition of her services to the community.
Commissioner Karen Shuan
Commissioner Karen SHUAN (Kuku Yalanji Clan) was born as a Kuku Yalanji woman. She is a traditional owner of the Mossman area and has resided in Mossman all of her life. After completing year 11 at Mossman State High School, she gained a Certificate III in Tourism and a Certificate III in Business. Mossman Gorge Commissioner Shuan became increasingly involved in Aboriginal culture and concerns and joined BBNAC. Positions she has held at BBNAC include Secretary, Director, Vice Chairperson and tourism guide. Commissioner Shuan is presently the cultural tour guide at the Mossman Gorge Centre where she welcomes visitors to Country and provides cultural information to the many tourists who visit the area, as well as providing support to other Indigenous staff at the centre. As a custodian of the Kuku Yalanji culture she is recognised as a cultural leader and a skilled and passionate teacher of traditional dance.
Today she leads the dance group for Mossman Gorge, Wabal Wabal Dance, in local performances which celebrate the culture of Cape York people through song and dance. The group has also performed in Cairns at professional engagements and at the National Aboriginal and Islander Day Observance Committee week.