Mossman Gorge Commissioners
The Commission recognises we are visitors to the country we travel across and work in and that many of our Local Commissioners are Traditional Owners and Elders of their communities. The Commission acknowledges and pays our respects to the Traditional Owners, Elders and Teachers of these lands; to those of the past whose unseen hands guide the actions and decisions of the Commissioners today; to those of the present working for their communities setting the example for the next generation and to those of the future, the Elders not yet born who will inherit the legacy of our efforts.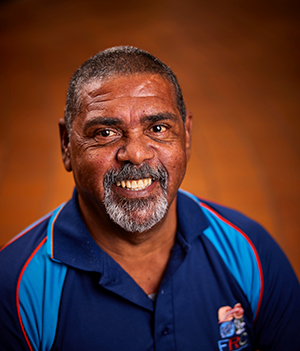 Commissioner George Ross-Kelly
Commissioner George ROSS-KELLY (Kuku Nyungkul / Kuku Yalanji Clans) was born and raised in Mossman where he attended Miallo State School and Mossman State School. He is the eldest of two children and is proud to be fluent in the Kuku Yalanji language which he has passed down to his children and grandchildren.
In the mid-1980s Commissioner George Ross-Kelly became a resident of the Mossman Gorge community during which time he was employed as a bus driver, providing transport for community residents to shop in Mossman and to go on country excursions which included camping and fishing trips. Further positions held included a role as Supervisor of the landscaping and gardening unit of BBNAC, and Team Leader in the Woodwork Unit of the Mossman Art Centre which afforded him the opportunity to indulge his hobbies of woodwork and using a lathe.
He returned to bus driving in 2004 when he commenced employment with Country Road Coachlines – a service running from Cairns to Cooktown. In 2006 he returned to working closer to home with FNQ Bus Lines which provided a school bus run for the Mossman Gorge and Newell Beach areas.
Mossman Gorge Commissioner Ross-Kelly joined the FRC as a Local Commissioner on 1 November 2019. He finds his role with the FRC enriching as it enables him to use his skills and aptitude to communicate with community members, providing support and empathy. He is empowered by the opportunity to learn new skills.
His weekend activities include fishing at Newell Beach and Rocky Point and camping in the Daintree and Rosville/Cooktown areas with his family.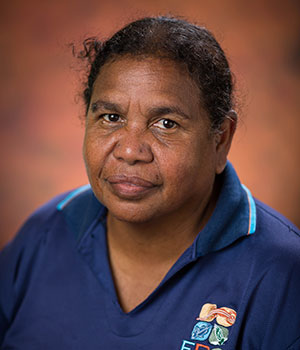 Commissioner Loretta Spratt
Commissioner Loretta SPRATT OAM (Olkola / Lama Lama Clans) was born on Thursday Island but spent her infant years in Coen and Hope Vale. She remained in Hope Vale throughout her childhood until her late teens when she met Nathan McLean, a young man visiting from Mossman Gorge. Commissioner Spratt later moved to the Gorge where she resided for many years with Nathan before buying a house and moving to Mossman in February 2018. Mossman Gorge Commissioner Spratt has previously worked in the areas of sport and recreation. She has completed a Certificate III in horticulture, discovering her true passion in life, and is currently employed by Bamanga Bubu Ngadimunku Aboriginal Corporation (BBNAC) propagating and using native plants and trees in landscaping.
On 26 January 2015 Mossman Gorge Commissioner Spratt was awarded a Medal of the Order of Australia (OAM) in recognition of her services to the community. She has a keen interest in art and a love of reading and continues to learn new skills to complement her Local Commissioner role in the community. Mossman Gorge Commissioner Spratt continues to work closely with young people and the women of her community to promote strong, healthy and supportive families. On weekends she likes to spend time with her nieces and nephews fishing, enjoying the natural beauty of the Daintree area, reading and particularly gardening at home.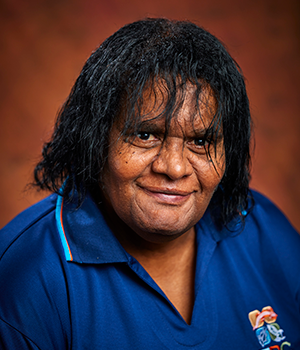 Commissioner Daphne Creek
Commissioner Daphne CREEK (Kuku Nyungkul / Southern Kaantju Clans) was born and raised in Mossman where she attended Mossman State School and Mossman State High School. She is the youngest of two children and is a proud mum of six children. In 2012 Commissioner Daphne Creek purchased her first home with her husband and sons.
Working as a health worker in the late 1990's immersed Commissioner Daphne Creek into the Mossman Gorge community whilst linking families with support services. Early in 2003 saw Commissioner Daphne Creek embark on her career with BBNAC. There she has worked in many roles including administration, finance and payroll and as housing manager.
Weekends include spending time with family and enjoying a meal together. Gardening and quiet times at home are also important to Commissioner Daphne Creek.
Commissioner Daphne Creek became a Mossman Gorge Local Commissioner on 5 May 2022.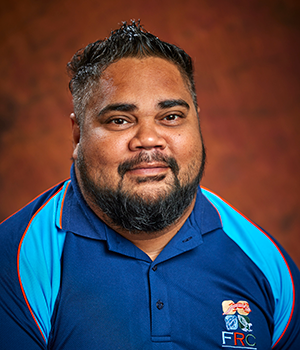 Commissioner Jarrod Kulka
Commissioner Jarrod KULKA (Kuku Yalanji Clan on his father's side and Wulgurukaba People on his mother's side) has lived in Mossman his whole life. Commissioner Kulka attended Mossman State High School, and afterwards went on to gain accreditations including a Certificate II in Conservation and Land Management, Chainsaw Certificate, Construction White Card, and a Certificate III in Tourism.
Commissioner Kulka's background is in skilled manual work as a trainee deckhand, labourer, farmhand, fencing contractor, and he spent time working in the mines as a heavy truck operator. He then went into roles where he could use his strong knowledge of Indigenous culture – a Lead Tour Guide at Mossman Gateway and then a Cultural Awareness Teacher for Jabalbina Yalanji Aboriginal Corporation. He has taught cultural awareness to local businesses and visitors in the area, breaking down barriers and closing the gap between Indigenous and non-Indigenous people. Commissioner Kulka's calm, stable and easy-going nature enables him to engage with clients respectfully and attentively.
Commissioner Kulka's hobbies and interests on the weekends include rugby league, fishing and hunting which is an important cultural tradition he wishes to continue. Commissioner Kulka became a Mossman Gorge Local Commissioner on 5 May 2022.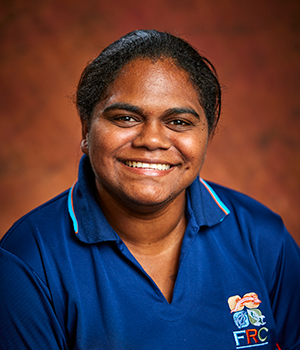 Commissioner Zara Ryan
Commissioner Zara RYAN (Yalanji / Nyungkul and Southern Kaantju Clans) was born in Cairns and raised in Mossman, where she completed school at Mossman State High School. She has three siblings and a young daughter.
Working part-time whilst completing her secondary studies, Commissioner Ryan worked in a local café and for an Indigenous Family Support Service. Training and skilling herself with tools to grow and progress in January 2019 took Commissioner Ryan to Ayers Rock in a position as front office receptionist. With the ever-changing world in 2020, she moved back to Mossman to be closer to family. Commissioner Ryan has a very relatable perspective of growing up in the area as a young Indigenous person, assisting her ability to interact with clients in an authentic and genuine manner.
Having a love of all sports, at seventeen Commissioner Ryan was a representative in the under 18's Indigenous Australian Schoolgirl team. Her interests and passions include continuing to learn her language and culture, and performing and teaching her traditional dancing, which she wants to pass on to her daughter and the younger generation. Commissioner Zara Ryan became a Mossman Gorge Local Commissioner on 5 May 2022.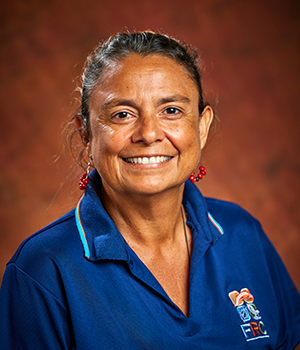 Commissioner Julie Williams
Commissioner Julia-Ann (Julie) WILLIAMS (Kuku Yalanji Clan) was born and raised in Mossman where she attended both Mossman State School and Mossman State High School. Being one of 12 children, life has always been busy for Commissioner Julie Williams.
She has a passion for encouraging the health and wellbeing of her community. Stepping into the Local Commissioner role is something that seemed a natural progression for her. Having worked for many years in Mossman Gorge, improving people's lives is very close to her heart. Early in her career Commissioner Julie Williams worked as an Indigenous Student Support Officer and teachers-aide, nurturing, and encouraging youth. In 2009 Commissioner Julie Williams embarked on her role as a Youth Development Coordinator in Mossman delivering youth programs and offering counselling and support to stabilise health and lifestyle.
Her commitment to improving the wellbeing of her community expanded to the role of Parenting Consultant in Mossman Gorge, working closely with many community members. Increasing her skill set then saw Commissioner Julie Williams move into the role of Community Support Worker, supporting families to address alcohol and drug problems. In 2016 Commissioner Julie Williams undertook a role of travelling into thirteen Cape York communities delivering a drug and alcohol program. In 2021 Commissioner Julie Williams felt that she needed to be closer to her family and country and returned to Mossman to undertake her role at Jabalbina Yalanji Aboriginal Corporation, hosting a girl's On Country Program.
When not immersing herself into community, Commissioner Julie Williams practices Bowen Therapy and Reiki, enjoys painting, camping and looking after her own wellbeing. Commissioner Julie Williams became a Mossman Gorge Local Commissioner on 5 May 2022.